Satnews Daily September 22, 2011
United Technologies + Goodrich Corp... Acquiring Minds Wish To Know...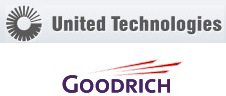 United Technologies homepage
Goodrich homepage
[SatNews] This acquisition will close with an enterprise value of some $18.4 billion...
United Technologies Corp.
(NYSE: UTX) has reached agreement to purchase
Goodrich Corporation
(NYSE: GR) for $127.50 per share in cash. This equates to a total enterprise value of $18.4 billion, including $1.9 billion in net debt assumed. United Technologies expects to finance the transaction through a combination of debt and equity issuance. The equity component is expected to approximate 25 percent of the total. The closing is subject to customary closing conditions, including regulatory and Goodrich shareholder approvals. Following completion of the transaction, United Technologies is expected to have worldwide sales of approximately $66 billion based on projected 2011 results. The combined company's increased scale, financial strength and complementary products will strengthen United Technologies' position in the aerospace and defense industry.
Goodrich is a global supplier of systems and services to the aerospace and defense industry. Its products include aircraft landing gear, aircraft wheels and brakes. Goodrich, with estimated 2011 sales of $8 billion, serves a global customer base with 27,000 employees worldwide. Goodrich is well positioned for future growth based on its increased content on leading new commercial and military aircraft. The company's broad position across many platforms, combined with increased air-framer production rates, will drive sustainable long-term aftermarket growth. United Technologies expects the transaction will be accretive to earnings in the second year.
Marshall Larsen
, Chairman, President and Chief Executive Officer of Goodrich, will become Chairman and Chief Executive Officer of a combined
UTC Aerospace Systems
business unit. The senior leadership team of the combined business will be located in Charlotte, N.C. United Technologies today also reaffirmed its expectations for 2011 revenues of approximately $58 billion, earnings per share in the range of $5.35 to $5.45, and cash flow from operations less capital expenditures equal to or in excess of net income attributable to common shareowners. J.P. Morgan and Goldman, Sachs & Co. are acting as financial advisors to United Technologies. Wachtell, Lipton, Rosen & Katz is serving as legal advisor to United Technologies. Credit Suisse Securities (USA) LLC and Citi are acting as financial advisors and Jones Day is acting as legal advisor to Goodrich.